Highlights
Sustained-release melatonin
Proprietary extract of enzymatically treated asparagus (ETAS™)
No next-day grogginess
Dairy-free, gluten-free, GMO-free
Vegetarian
Benefits
Fall asleep faster*
Stay asleep longer*
Improve your quality of sleep*
Why Restwelle
Many folks find that as they get older, it's harder to get a good night's sleep. But younger people aren't exempt from trouble sleeping, especially during periods of heightened stress. If you occasionally find it hard to get a good night's sleep, it's smart to have a natural sleep aid on hand.
When choosing a sleep supplement, though, consider this: How rested you feel in the morning isn't just about how much you sleep (sleep quantity). It's also about how well you sleep (sleep quality). Restwelle™ offers comprehensive sleep help so you can:
Fall Asleep Faster. Restwelle™ features Melatonin-SR, a sustained-release form of the popular sleep remedy melatonin. This kind of melatonin has been shown to halve the time it takes to fall asleep!*
Stay Asleep Longer. Sustained-release melatonin has also been shown to reduce nighttime awakenings by 75 percent, to lengthen the time between awakenings, and to reduce the time needed to fall back asleep if you do wake up.*
Improve Your Sleep Quality. Restwelle™ also features ETAS®, an innovative new extract of enzymatically treated asparagus stalks. Two placebo-controlled studies have found ETAS improves sleep quality, and Restwelle™ is one of the only places you can find it.*
100%
Dairy-Free

100%
Gluten-Free

100%
GMO-Free

Magnesium
Stearate Free

100%
Vegetarian
Loved by 50,000+ Customers
See all our reviews here
Learn more about
our ingredients
MicroActive Melatonin-SR
Melatonin is a hormone released at night that regulates the sleep-wake cycle.* As we age, our production of this hormone declines. Multiple human studies have shown supplemental melatonin helps people fall asleep faster.* However, regular melatonin supplements leave the body quickly — within 4 hours. Therefore, they don't help people who wake up during the night or too early in the morning. Sustained-release melatonin is released slowly over the course of the night, so it helps you stay asleep until dawn.*
Click here to view the research abstracts.
ETAS™
ETAS® is an enzymatically treated extract of asparagus stalk. It has the unusual ability to trigger the release of heat shock protein HSP70. Your body produces HSP70 in response to heat, and it has the same relaxing effect as taking a hot bath.* ETAS is the only nutraceutical on the market that works through this unique mechanism of action. Human clinical research shows ETAS helps relieve occasional stress and improves sleep quality.*
Click here to view the research abstracts.
100% of our ingredients are backed by human clinical studies.
Click on any of the ingredients below to view the research abstracts.
Suggested Use: 1 vegicap daily with a meal.
Serving Size: 1 vegicap
Servings Per Container: 30
Amount Per Serving
% Daily Value
ETAS™ Asparagus (Stalk Extract)
300 mg †
Melatonin
as MicroActive Melatonin-SR
2 mg †
† Daily value not established.
Other ingredients: Other ingredients: tapioca dextrin, vegetable cellulose, silica (mineral), l-leucine, carnuaba wax, sodium alginate.
ETAS™ is a registered trademark of Amino Up Company Ltd.
MicroActive® is a registered trademark of BioActive LLC.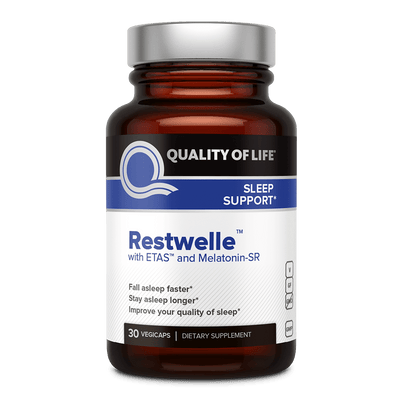 Dosage Chart
| Ingredients | Daily Dose Used in Human Studies | Daily Dose Used in Restwelle™ |
| --- | --- | --- |
| Melatonin-SR | 0.3 mg to 2 mg/day | 2 mg |
| ETAS™ | 150 mg/day | 300 mg |
Serving size: 1 vegicap ● Daily dose: 1 vegicap
Directions for use
| Serving Size | Daily Dose | When to take | How to take |
| --- | --- | --- | --- |
| 1 Vegicap | 1 Vegicap | 1 Vegicap before bed | With a meal |
Don't Just Sleep Longer,
Sleep Better
Restwelle™ is the only nutritional supplement available that not only helps you sleep more, but also helps you sleep better.* And unlike many sleep remedies, Restwelle™ won't make you feel groggy the next day. Just the opposite. In human research, sustained-release melatonin increased daytime alertness and ETAS® reduced daytime fatigue.*
Trust, Efficacy, and Our Promise
We are the only brand in the supplement industry that can guarantee that every single ingredient in every one of our products is backed by human studies and delivered in doses consistent with clinical research
No exceptions, no compromises.
Satisfaction
Guarantee
You can return items purchased directly from Quality of Life Labs for any reason within 30 days of purchase. See our Returns page for full details.
Protectively
Packaged in the USA
We package almost all of our products in glass bottles with metal lids for one simple reason: Glass and metal do the best job of protecting our supplements from light, oxygen, and moisture — all of which can degrade vitamins, minerals, botanicals, and other nutraceuticals and lessen their potency and freshness.
Dosages
Matter
When you choose Quality of Life, you can trust your supplements to work, because 100 percent of the ingredients in every product we manufacture are provided in dosages that match the clinical research.
Customer Reviews
Write a Review
Ask a Question
Really works!
Definitely buying again.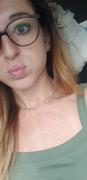 ---
Quality of Life's Satisfaction Guarantee
You can only return items purchased directly from Quality of Life Labs for any reason within 30 days of purchase. You will receive a full refund for unopened items in the original form of payment and merchandise credit for opened items.
---
Quality of Life is Featured in