Talk It Out – Try These 5 Online Men's Groups
Men's Health
,
Mindfulness
,
Mood-Stress-Sleep
|
Interested in self-improvement? Looking for a group of online friends to cheer you up and get you through some tough times? There's no shortage of online support groups, but if you're a guy, you might not want to spill your guts into a virtual room full of people from the opposite sex.
Just like women are likely to feel more comfortable sharing with other women, men could also be feeling the same way. There's a common myth that there's nowhere online for men to go for support in the areas of mood and mental health. We're here to dispel that myth and give you access to some valuable resources.
INDEX
What is a men's support group?
5 Best Places to Go to Join an Online Men's Group
Men's Group
Face It Foundation
Local (Online) Support Groups
Meetup
The Mankind Project
What is a men's support group?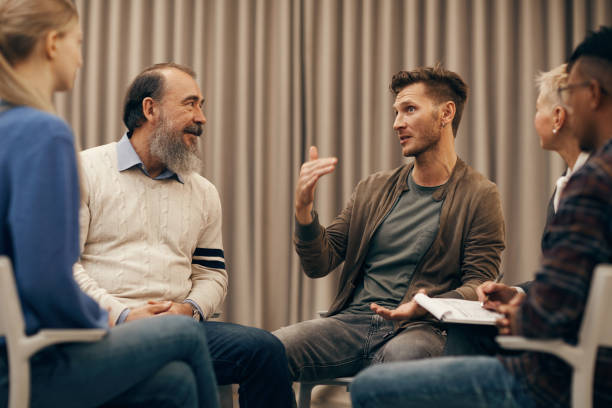 A men's support group can be a lot of different things, but it's typically a group of half a dozen to about 15 or 20 men that come together (either in person or online) to support each other in meetings that could be held weekly, bi-weekly, or monthly. Topics range from mental health to finding success. Personal growth, divorce, parenting, and overcoming challenges are also common topics.
5 Best Places to Go to Join an Online Men's Group
The name says it all. This group meets virtually in a Zoom-like setting where you can see and interact with every member during a meeting. Men's Group connects twice a month, and you also have the choice to turn off your video if you want to feel less vulnerable or exposed.
For men feeling depressed, this support group offers companionship and tools to help get you out of a funk. Each meeting feels like a hangout, but there's also a therapy component that can be incredibly valuable.
With the current pandemic, group meetings are on pause in many parts of the country. Psychology Today has compiled a list of local support groups for men, and many of these have moved online.
Many local meetups have now moved online, too. This link gives you a directory of all-male support groups. At a glance, you'll be able to see the topic and how many members each group has. For example, Dudes Meet Dudes has 13 members, and The Evolving Man Virtual Men's Group has 17 members.
You can see where each group is located, who the members are, and even engage in online discussions between meetings. Typically, meetups are done in person, but again, with Covid-19, more of these groups have moved to an online setting.
This group has regional branches as well as a three-week online course that men can take. By filling out a form, you'll be connected to a group in your area. At this time, most meetings will be conducted virtually.
What we love about this group is that members hold each other accountable in areas like goal setting and commitments, while being truthful and respectful at all times. This group is advertised as a "safe space" that enables a "regular guy" to feel empowered. No matter where you are in life, you could likely benefit from what this group has to offer.
Have you found an online group you like? Let us know in the comments!