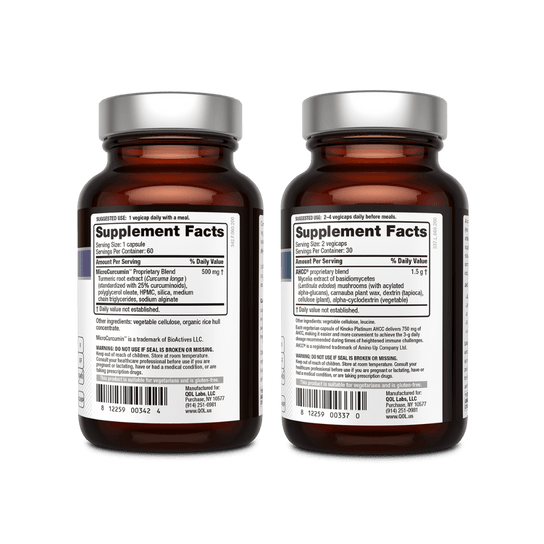 AHCC® - Kinoko® Platinum: AHCC® is an effective, well-researched, highly absorbed proprietary mushroom extract that amps up the body's immune defenses.* A daily 3-g dose provides advanced immune support for healthy cells throughout the body.*
Curcumin-SR™: Curcumin-SR™ unleashes the power of curcumin with MicroCurcumin™, an innovative curcumin formulation with 10x greater bioavailability than regular curcumin.
100%
Dairy-Free

100%
Gluten-Free

100%
GMO-Free

Magnesium
Stearate Free

100%
Vegetarian
Loved by 50,000+ Customers
See all our reviews here
Learn more about
our ingredients
AHCC®
AHCC®
AHCC® works as a biological response modifier, which means it turns up the dial on your natural immune response and strengthens your resistance.* It works by increasing the numbers and activity of white blood cells in the body. AHCC® increases the activity of natural killer cells, the body's first line of defense, by as much as 300-800%.* It boosts populations of macrophages, which engulf and destroy foreign material.* It increases numbers of dendritic cells, which identify immune threats and lead T cells to them.* And it boosts numbers and activity of T cells, which recognize previously encountered immune threats and eliminate them on the spot.*
Click here to view the research abstracts.
Curcumin-SR™
MicroCurcumin™
Curcumin is the active constituent of turmeric, the bright yellow spice found in Indian curries and featured in the popular drink golden milk. Turmeric has long been used in Ayurveda, the ancient medicinal system of India, for a variety of health concerns.*
Made through a proprietary process, MicroCurcumin™ is more bioavailable than regular curcumin for two reasons. First, MicroCurcumin™ has a very small particle size that is easily able to pass through the luminal membrane of the small intestine. Second, MicroCurcumin™ is encased in a special sustained-release matrix that gradually releases the curcumin over 12 hours, allowing it to enter the bloodstream at a slow and steady pace.
Click here to view the research abstracts.
Why Pair AHCC® and Curcumin-SR™?
Curcumin has been shown to turbocharge your immune system's defensive and restorative mechanics. This is due to curcumin's effect on your inflammatory response.*
Short-term inflammation is the body's normal, healthy response to an injury or immune challenge. However, when ongoing, inflammation may increase oxidative stress and contribute to the aging process. The trick is to make sure your inflammation response is appropriate and balanced.
Having a poor inflammatory response can lead to more immune challenges, this is why it's essential to take Curcumin-SR™ with AHCC® Kinoko® Platinum.
Trust, Efficacy, and Our Promise
We are the only brand in the supplement industry that can guarantee that every single ingredient in every one of our products is backed by human studies and delivered in doses consistent with clinical research
No exceptions, no compromises.
Satisfaction
Guarantee
You can return items purchased directly from Quality of Life Labs for any reason within 30 days of purchase. See our Returns page for full details.
Protectively
Packaged in the USA
We package almost all of our products in glass bottles with metal lids for one simple reason: Glass and metal do the best job of protecting our supplements from light, oxygen, and moisture — all of which can degrade vitamins, minerals, botanicals, and other nutraceuticals and lessen their potency and freshness.
Dosages
Matter
When you choose Quality of Life, you can trust your supplements to work, because 100 percent of the ingredients in every product we manufacture are provided in dosages that match the clinical research.
---
Quality of Life's Satisfaction Guarantee
You can only return items purchased directly from Quality of Life Labs for any reason within 30 days of purchase. You will receive a full refund for unopened items in the original form of payment and merchandise credit for opened items.
---
Quality of Life is Featured in