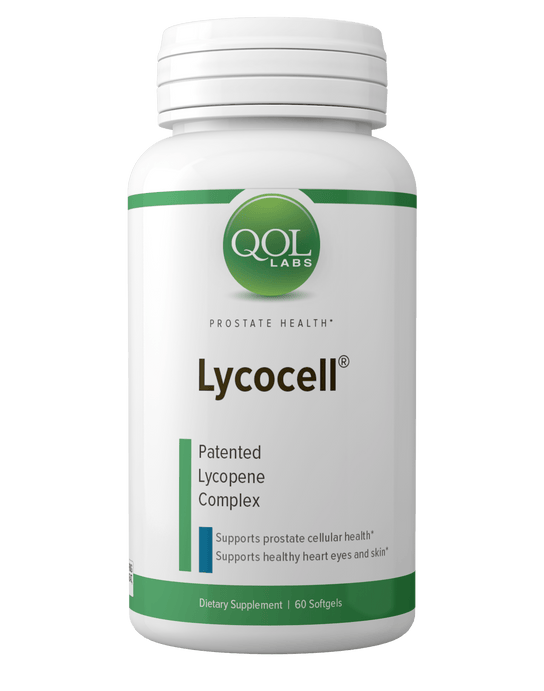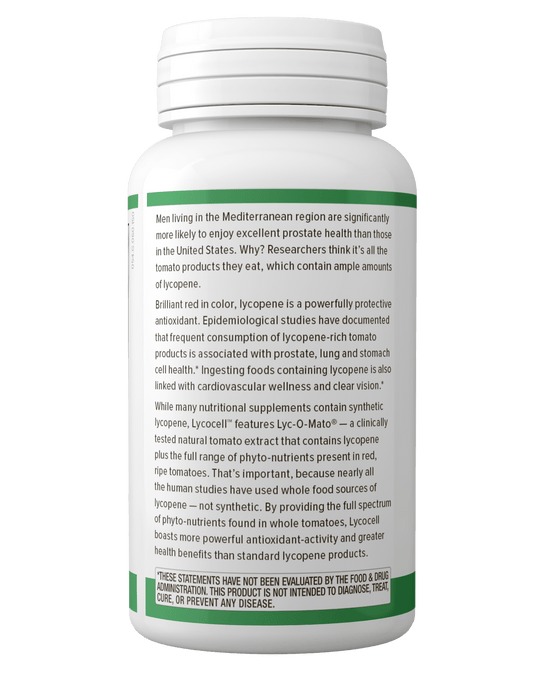 Benefits
• Supports prostate health with enhanced biological activity.*

• Helps prevent DNA damage with antioxidants to help protect cells from free-radical damage.*

• Supports cardiovascular health with lycopene from Lyc-O-Mato.*

• Supports healthy and radiant skin with lycopene from Lyc-O-Mato.*
 ------------------------------------------------------------------------------------------
Overview
Men living in the Mediterranean region are significantly more likely to enjoy excellent prostate health than those in the United States. Why? Researchers think it's all the tomato products they eat, which contain ample amounts of lycopene.
Brilliant red in color, lycopene is a powerfully protective antioxidant. Epidemiological studies have documented that frequent consumption of lycopene-rich tomato products is associated with prostate, lung, and stomach cell health.* Ingesting foods containing lycopene is also linked with cardiovascular wellness and clear vision.*
While many nutritional supplements contain synthetic lycopene, Lycocell™ features Lyc-O-Mato® — a clinically tested natural tomato extract that contains lycopene plus the full range of phytonutrients present in red, ripe tomatoes. That's important, because nearly all the human studies on this supplement have used whole-food sources of lycopene — not synthetic. By providing the full spectrum of phytonutrients found in whole tomatoes, Lycocell boasts more powerful antioxidant activity and greater health benefits than standard lycopene products.
 -------------------------------------------------------------------------------------------
Dosages
| Ingredient | Daily Dose Used in Human Studies | Daily Dose Used in Lycocell§ |
| --- | --- | --- |
| Lyc-O-Mato® | 200 mg | 200 mg |
§Serving size: 1 softgel • Daily dose: 2 softgels
 -------------------------------------------------------------------------------------------
Supplements Facts
SUGGESTED USE:Take 2 softgels daily with a meal.
Supplement Facts
Serving Size: 1softgel
Servings per container:60
Amount per serving
% Daily value
Lyc-O-Mato*(natural tomato extract standardized to 15% lycopene)
100 mg †
Vitamin A (as natural beta-carotene)
333lU 7%
Vitamin E (as d-alpha tocopherol)
2.4lU 8%
Lycopene (from tomatoes)
15mg †
Phytoene
400mcg †
phytofluene
400 mcg †
Phytosterols
400 mcg †
*Percent values are based on a 2000-calorie diet.
†

 

Daily value not established

Other ingredients:Pure olive oil,gelatin,glycerin,purified water,
and annatto (suspended in sunflower oil).
Lyc-O-Mato* is a registered trademark of LycoRed Corporation
*These statements have not been evaluated by the Food and Drug Administration. This product is not intended to diagnose, treat cure, or prevent any disease.
Loved by 50,000+ Customers
See all our reviews here
Trust, Efficacy, and Our Promise
We are the only brand in the supplement industry that can guarantee that every single ingredient in every one of our products is backed by human studies and delivered in doses consistent with clinical research
No exceptions, no compromises.
---
Quality of Life's Satisfaction Guarantee
You can only return items purchased directly from Quality of Life Labs for any reason within 30 days of purchase. You will receive a full refund for unopened items in the original form of payment and merchandise credit for opened items.
---
Quality of Life is Featured in