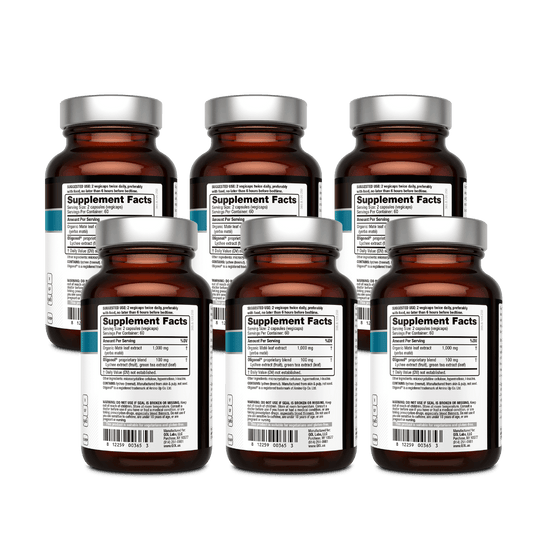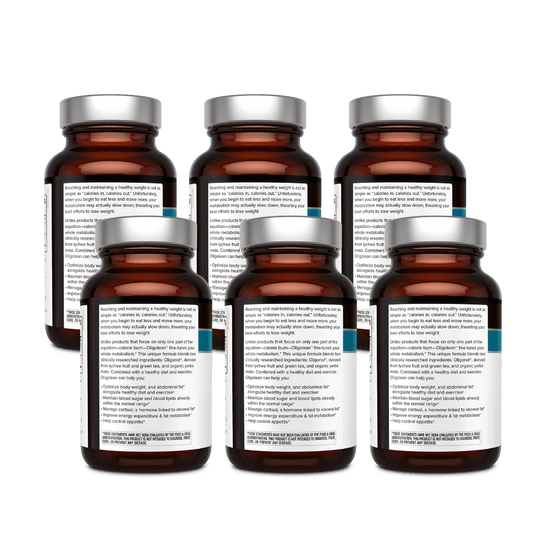 Highlights
Clinically researched doses of Oligonol® and yerba maté
Low-molecular weight, easy-to-absorb polyphenols from Oligonol®
200 mg Oligonol + 2,000 mg yerba maté per 4 capsules
Vegan, gluten-free, non-GMO
Benefits
Supports weight management*
Promotes blood sugar balance*
Optimizes fat metabolism*
Balances hormones that affect weight*
Decreases the desire to eat*
Why Oligolean
How many calories you eat versus how many calories you burn impacts your weight, but it's not the whole story. If you start eating less and exercising more, your metabolism may respond like it did for our caveman ancestors when food was scarce — namely, by slowing down. When that happens, you may stay at the same weight despite consuming fewer calories.
When it comes to how much you weigh, all kinds of metabolic factors are in play, including your blood sugar, your fat metabolism, your hormones (we're looking at you, insulin and cortisol!), and your appetite.
Unlike supplements focused solely on calorie burn, Oligolean™ is a holistic weight management formula that gives your whole metabolism a tune-up. In addition to targeting calorie expenditure, it also supports healthy body weight; abdominal circumference; fat metabolism; hormone, blood sugar and blood lipid levels; and appetite.*
Loved by 50,000+ Customers
See all our reviews here
Learn more about
our ingredients
Oligonol®
Oligonol® is a low-molecular-weight, highly absorbable polyphenol made from lychee fruit and green tea. When used in conjunction with a healthy diet and exercise, Oligonol® has been clinically shown to decrease body weight, waist circumference, and abdominal fat.* It may work in part by decreasing cortisol, a hormone linked to belly fat, and increasing lipolysis (the breakdown of triglycerides for energy).* Oligonol® also helps maintain blood sugar and blood lipids already within normal limits.* Oligonol® won the prestigious NutraCon "Top Evidence-backed Products of the Year" NutrAward in 2008.
Click here to view the research abstracts.
Yerba Maté
Yerba Maté is native to South America, where the plant's antioxidant-rich leaves have been steeped and consumed as a beverage for hundreds of years. Clinical research has shown that combining yerba maté with exercise significantly increases fat burning and energy expenditure.* Yerba maté has also been shown to decrease hunger and keep appetite in check.*
Click here to view the research abstracts.
100% of our ingredients are backed by human clinical studies.
Click on any of the ingredients below to view the research abstracts.
Suggested Use: 2 vegicaps twice daily, preferably with food, no later than 6 hours before bedtime.
Serving Size:
2 vegicaps
Servings Per
Container: 60
Amount Per Serving
% Daily Value
Organic Maté leaf extract
(yerba maté) (80 mg caffeine)
1,000 mg
Oligonol® proprietary blend
Lychee extract (fruit), green tea extract (leaf)
50 mg
† Daily Value (DV) not established.
Other ingredients: vegetable cellulose, microcrystalline cellulose, hypermellose, l-leucine.
CONTAINS: lychee (treenut). Manufactured from skin & pulp, not seed.
Oligonol® is a registered trademark of Amino Up Co Ltd.
Each 2-capsule serving contains 80 mg of caffeine, equivalent to a cup of regular ground coffee.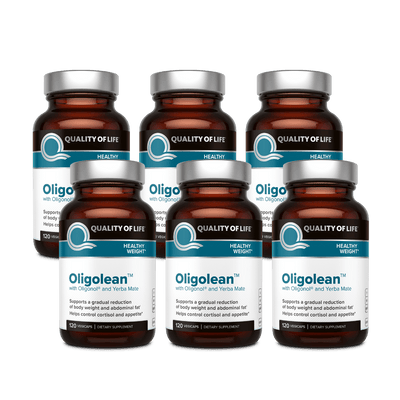 Dosage Chart
Ingredient
Daily Dose Used
in Human Studies
Daily Dose Used
in Oligolean™
Organic Maté leaf extract
2000 mg
4000 mg
Oligonol®
200 mg
200 mg
Serving size: 2 vegicaps ● Daily dose: 2-4 vegicaps
Directions for use
Serving Size
Daily Dose
When to take
How to take
2 vegicaps
4 vegicaps
4 vegicaps daily
With food, no later than
6 hours before bedtime.
A Holistic Approach to Weight Management
Anyone who's tried knows that losing weight and keeping it off is hard work — and often feels like an uphill battle. It helps to have your metabolism working with you, not against you. Oligolean™ was formulated to get your metabolism into the best shape it can be, with the systems that regulate blood sugar, fat burning, hormonal balance, energy expenditure, and appetite all in good working order. That way, you can have a better shot at achieving the weight you want.*
Trust, Efficacy, and Our Promise
We are the only brand in the supplement industry that can guarantee that every single ingredient in every one of our products is backed by human studies and delivered in doses consistent with clinical research
No exceptions, no compromises.
Satisfaction
Guarantee
You can return items purchased directly from Quality of Life Labs for any reason within 30 days of purchase. See our Returns page for full details.
Protectively
Packaged in the USA
We package almost all of our products in glass bottles with metal lids for one simple reason: Glass and metal do the best job of protecting our supplements from light, oxygen, and moisture — all of which can degrade vitamins, minerals, botanicals, and other nutraceuticals and lessen their potency and freshness.
Dosages
Matter
When you choose Quality of Life, you can trust your supplements to work, because 100 percent of the ingredients in every product we manufacture are provided in dosages that match the clinical research.
---
Quality of Life's Satisfaction Guarantee
You can only return items purchased directly from Quality of Life Labs for any reason within 30 days of purchase. You will receive a full refund for unopened items in the original form of payment and merchandise credit for opened items.
---
Quality of Life is Featured in