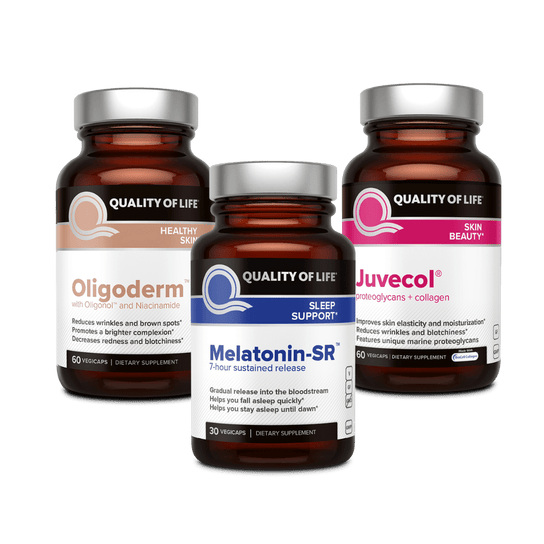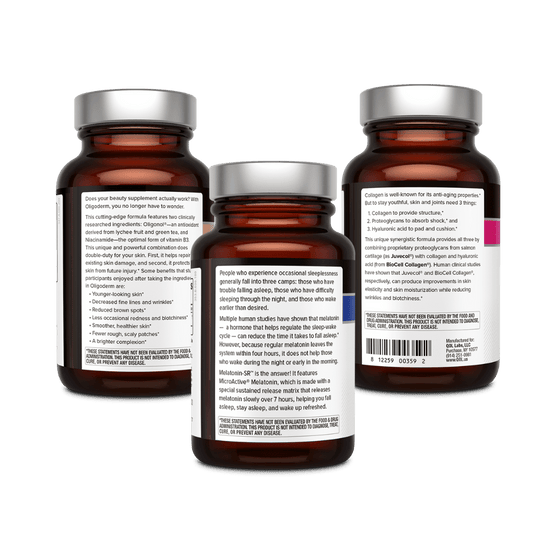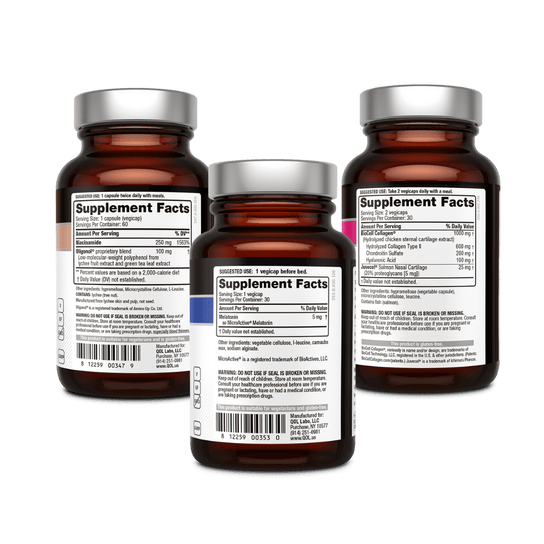 Oligoderm™: Unlike unproven skincare products, Oligoderm™ features two clinically researched ingredients: Oligonol® and niacinamide. Together, these power players help repair existing skin damage and protect skin from future injury.*
Melatonin-SR™: Standard melatonin is ineffective for people who awake during the night because it's metabolized quickly, leaving the body within four hours. Melatonin-SR is released gradually over 7 hours, so it helps you fall asleep — and stay asleep.*
Juvecol®: To stay youthful, your skin needs three things: collagen for structure, proteoglycans for elasticity, and hyaluronic acid for hydration and cushioning.* Juvecol® is the only collagen product to provide all three, improving your skin's elasticity, reducing wrinkles, and enhancing your skin's appearance.*
Loved by 50,000+ Customers
See all our reviews here
Learn more about
our ingredients
Oligoderm™
Oligonol®
Oligonol® is a low-molecular-weight, highly absorbable polyphenol made from lychee fruit and green tea. It has been shown to promote more youthful-looking skin, especially in people 40+.* Several clinical studies on this innovative ingredient have found multiple skin benefits, including reduction of wrinkles and brown spots in both men and women.* Oligonol® won the prestigious NutraCon "Top Evidence-backed Product of the Year" NutrAward in 2008.
Niacinamide
Regular vitamin B3 (niacin) causes an uncomfortable flushing sensation in many people. Niacinamide is a special, non-flushing form of vitamin B3. Two clinical trials have shown niacinamide helps reduce rough, scaly patches on skin.* It also improves skin tone.*
Click here to view the research abstracts.
Melatonin-SR™
MicroActive® Melatonin
Melatonin is the hormone your pineal gland secretes at night to prepare your body for sleep.* MicroActive® Melatonin supplies melatonin in a special, micronized, sustained-release matrix using patent-pending MicroActive® technology. This form of melatonin is released into the bloodstream in two discrete stages. A quick initial burst of 40% of the dose helps you fall asleep quickly.* The remaining 60% is released gradually over 7 hours to help you stay asleep until dawn.*
Sustained-release melatonin has been tested in kids, adults, and seniors and has been shown to reduce the time it takes to fall asleep, increase time spent asleep, and improve sleep quality and next-day alertness.* It can also help recalibrate your internal clock when you travel across time zones.*
Click here to view the research abstracts.
Juvecol®
BioCell Collagen®
Collagen is a key structural protein. It is one of the main constituents of connective tissue, which helps make up skin. BioCell Collagen® is a patented ingredient providing type II collagen peptides (60%), hyaluronic acid (10%), and chondroitin sulfate (30%). Two human clinical trials have found BioCell Collagen® visibly reduces common signs of skin aging, such as lines and wrinkles, crow's feet, and skin dryness/scaling, while increasing skin elasticity.* It has undergone a unique manufacturing process, resulting in very low molecular weight compounds that are more efficiently absorbed into the bloodstream.
Juvecol®
A NEXTY Award-winning ingredient, Juvecol® is an eco-friendly, proprietary wild salmon cartilage extract. It is rich in proteoglycans, important constituents of connective tissue, which gives skin its structure.* Juvecol® has been clinically shown to positively affect skin health in multiple ways after just 2 weeks. Study participants experienced improved skin elasticity and moisture, and enjoyed reduced undereye wrinkles, skin looseness, conspicuous pores, blotchiness, and roughness.* By making use of discarded fish heads that otherwise would have gone to waste, Juvecol® has a net positive impact on the environment.
Click here to view the research abstracts.
Feel good, from the inside out
Your physical beauty is a reflection of your health - while most people try to improve their appearance by focusing on treating tissues from the outside, the real secret to healthy skin and a beautiful exterior comes from within. If you want the glow of good health – this bundle is right for you! QOL has what you need to look good and feel good!
Trust, Efficacy, and Our Promise
We are the only brand in the supplement industry that can guarantee that every single ingredient in every one of our products is backed by human studies and delivered in doses consistent with clinical research
No exceptions, no compromises.
Satisfaction
Guarantee
You can return items purchased directly from Quality of Life Labs for any reason within 30 days of purchase. See our Returns page for full details.
Protectively
Packaged in the USA
We package almost all of our products in glass bottles with metal lids for one simple reason: Glass and metal do the best job of protecting our supplements from light, oxygen, and moisture — all of which can degrade vitamins, minerals, botanicals, and other nutraceuticals and lessen their potency and freshness.
Dosages
Matter
When you choose Quality of Life, you can trust your supplements to work, because 100 percent of the ingredients in every product we manufacture are provided in dosages that match the clinical research.
---
Quality of Life's Satisfaction Guarantee
You can only return items purchased directly from Quality of Life Labs for any reason within 30 days of purchase. You will receive a full refund for unopened items in the original form of payment and merchandise credit for opened items.
---
Quality of Life is Featured in