Highlights
Clinically researched doses of all ingredients
Highly bioavailable CoQ10-SR, with 24-hour sustained release
Vitamin D3, which is more bioavailable than vitamin D2
Vitamin K2, as MenaQ7®, which is more bioavailable than vitamin K1
Selenium, as L-selenomethionine, which is more bioavailable than selenite
Benefits
Replenishes nutrients depleted by statin drugs*
Helps produce energy for the heart, with CoQ10*
Supports muscle comfort, with vitamin D3*
Promotes arterial flexibility, with vitamin K2*
Replenishes the antioxidant glutathione, with selenium*
Why Optistatin
Many people take statin drugs to lower their cholesterol and protect their hearts. But in an ironic twist, these drugs actually deprive the body of several important nutrients for heart health.
Statins deplete Coenzyme Q10 (CoQ10), which supplies the heart with energy.
Statins reduce the synthesis of vitamin K, which keeps calcium out of soft tissues such as the arteries.
Statins interfere with the production of selenium-containing proteins, such as glutathione, an antioxidant the heart needs.
The combination of low vitamin D plus statins can cause muscle pain.
Any one of these problems would be bad enough, but together they're downright worrisome. The good news is that you can take statins safely. You just need to replace the nutrients they diminish. That's exactly what OptiStatin™ CoQ10-SR® does. This comprehensive formula counteracts the negative effects of statins with the most bioavailable forms of CoQ10, vitamins D and K, and selenium.
100%
Dairy Free

100%
Gluten Free

Magnesium
Stearate Free

100%
GMO-Free

100%
Vegetarian
Loved by 50,000+ Customers
See all our reviews here
Learn more about
our ingredients
100% of our ingredients are backed by human clinical studies.
Click on any of the ingredients below to view the research abstracts.
Suggested Use: 1 vegicap daily with a meal.
Serving Size: 1 vegicap
Servings Per Container: 30
Amount Per Serving
% Daily Value
Vitamin D3 (as cholecalciferol)
50 mcg 250%
Selenium (as L-selenometholine)
200 mcg 364%
Coenzyme Q10 as CoQ10-SR®
70 mg as crystalline CoQ10
30 mg CoQ10 as MicroActive® Q10 Complex
100 mg †
Vitamin K2 MK7 (as MenaQ7)
180 mcg 150%
† Daily value not established.
Other ingredients: vegetable cellulose, glycerol monostearate, beta-cyclodextrin, leucine, tapioca dextrin, ascorbyl palmitate (preservative), olive oil, rosemary extract.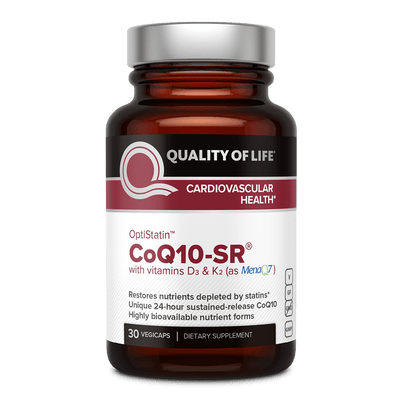 Dosage Chart
Ingredients
Daily Dose Used
in Human Studies
Daily Dose Used in
OptiStatin™ CoQ10-SR®
Vitamin D3
50 mcg
50 mcg
Selenium
200 mcg
200 mcg
CoQ10-SR®
70 mg
crystalline CoQ10
30 mg
MicroActive® Q10 Complex
Vitamin K2
180 mcg
180 mcg
Serving size: 1 vegicap ● Daily dose: 1 vegicap
Directions for use
| Serving Size | Daily Dose | When to take | How to take |
| --- | --- | --- | --- |
| 1 Vegicap | 1 Vegicap | 1 Vegicap in the AM | With a meal |
The best CoQ10
for your heart
Form is especially important when it comes to CoQ10 because it is very poorly absorbed. There are three reasons why.
First, it's fat-soluble, and water-soluble nutrients are easier to absorb than fat-soluble ones.

Second, it comes in crystals that clump together, making them too large to cross the intestinal barrier.

Third, CoQ10 absorption varies considerably from person to person. Many people are simply poor CoQ10 absorbers.
MicroActive® CoQ10 solves the CoQ10 absorption issue. It binds the fat-soluble nutrient to water-soluble carrier molecules that ferry it through the aqueous environment of the gastrointestinal tract. Because its particles are micronized, they small enough to be absorbed through the intestinal barrier. These innovations have been clinically demonstrated to give MicroActive® CoQ10 universal absorption across all individuals.
Trust, Efficacy, and Our Promise
We are the only brand in the supplement industry that can guarantee that every single ingredient in every one of our products is backed by human studies and delivered in doses consistent with clinical research
No exceptions, no compromises.
Satisfaction
Guarantee
You can return items purchased directly from Quality of Life Labs for any reason within 30 days of purchase. See our Returns page for full details.
Protectively
Packaged in the USA
We package almost all of our products in glass bottles with metal lids for one simple reason: Glass and metal do the best job of protecting our supplements from light, oxygen, and moisture — all of which can degrade vitamins, minerals, botanicals, and other nutraceuticals and lessen their potency and freshness.
Dosages
Matter
When you choose Quality of Life, you can trust your supplements to work, because 100 percent of the ingredients in every product we manufacture are provided in dosages that match the clinical research.
Frequently Asked Questions
What is MicroActive® CoQ10?

MicroActive® CoQ10 is a a patented form of CoQ10 with superior bioavailability. The fat-soluble CoQ10 is bound to water-soluble carrier molecules, which escort the CoQ10 through the digestive system. There, it's released slowly over the course of 24 hours. Because the CoQ10 particles are micronized, they easily enter the cells. As a result of these technological innovations, MicroActive® CoQ10 has been shown to improve absorption for all people who take it, not just a few "super absorbers."

What heart-protective nutrients does OptiStatin™ provide?

OptiStatin™ provides the heart protective nutrients, CoQ10, Vitamin K2, Selenium, and Vitamin D3.

If you are not currently taking statins can you benefit from OptiStatin™?

Yes, OptiStatin™ offers the body several heart-protective nutrients that anyone with a heart can benefit from!

What is a statin?

Statins are drugs prescribed by doctors for people who need to manage their high cholesterol levels. This is good and all, but some experience really troublesome side effects such as headaches, dizziness, fatigue, and muscle pain. Worse, statins could also lead to specific nutrient deficiencies, many of which are actually heart-protective like CoQ10, Vitamin D, and certain antioxidants.
---
Quality of Life's Satisfaction Guarantee
You can only return items purchased directly from Quality of Life Labs for any reason within 30 days of purchase. You will receive a full refund for unopened items in the original form of payment and merchandise credit for opened items.
---
Quality of Life is Featured in